Answers to legal questions
posed by the general public to Memphis Attorney Christina Burdette
Q: Child Support
Am going to file for child support for 2 children I have full permanent custody of.
Mother was granted visits once a month for 6 hours. Problem is I don't know where she lives or her family. Don't know if she works. Basically nothing. How do I file support petition without knowing where papers can be served to her. All I have is a phone # but don't know if that's still good or not. Since gaining full permanent custody she hasn't called and won't answer mine or my family's calls. Please help.
A: Before you file a petition for child support it would be in your best interests...
to try and locate the mother. At some point you will have to show the court the efforts that you have made to locate her. If you truly have no idea where she is you can request that she be given notice by publication in the county of her last known residence. If you are receiving assistance from the State of Tennessee they will file a petition on your behalf. If you aren't receiving assistance, you might be faced with a two-step process. Why? To make sure that every effort has been made to locate the mother and make her aware of a pending judgment against her. It may involve a little more time and diligence, but it can be done.
Adoption Appeals Cases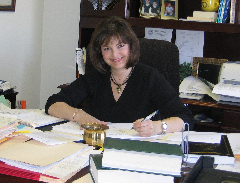 Christina Burdette