Answers to legal questions
posed by the general public to Memphis Attorney Christina Burdette
Q: I wanted to know if you can file a " no fault" divorce in tn?...
...My ex is not cooperating with by not showing up to mediation 2 times in a row. And the divorce was filed over 2 years ago.
A: Your question is whether a "no fault" divorce can be filed in Tennessee,
...but in your last sentence you say that you filed for divorce over 2 years ago. There are two ways to get divorced in Tennessee. You can get divorced because you and your husband have "irreconcilable differences" or you can get divorced if you have grounds for divorce. It sounds like maybe one of you filed for a divorce on irreconcilable differences two years ago and now your husband doesn't want to proceed on that basis. I don't know. If you already have an attorney you should find out if your complaint can be amended to allege grounds. One ground that is used by many is "inappropriate marital conduct." You would have to prove that your husband has indeed done something that in your eyes is inappropriate. If the complaint can't be amended and you are the plaintiff, you may have to dismiss the complaint and refile in order to allege grounds.
Adoption Appeals Cases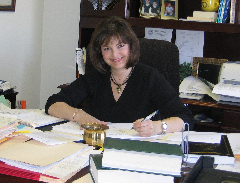 Christina Burdette