Single Parent
Transfers of Assets/Property to Children
The Uniform Transfers to Minors Act (UTMA) is a law that has been adopted in substantially the same form in almost every state. Tennessee's UTMA is codified at T.C.A. § 35-7-101 et seq. Under the UTMA, you may choose someone to manage property you are leaving to a child. This person is called a custodian. If you die when the child is still under the age set by your state's law -- 21, in most states -- the custodian will step in to manage the property. In Tennessee, the custodianship can be extended until the child reaches the age of 25. If you don't want the beneficiary to get the property so young, you may want to use a trust instead.
To set up a custodianship, all you need to do is name a custodian and the property you're leaving to a young person. You can do this in your will or living trust, or when you name a beneficiary for an insurance policy, if you're leaving life insurance proceeds to your kids. For example, your will might state, "I leave $10,000 to Michael Stein, as custodian for Ashley Farben under the Tennessee Uniform Transfers to Minors Act." That would be enough to create the custodianship (if it's ever needed).
More information for single parent legal planning.
Tennessee Wills and Trusts Information
Tennessee Estate Documents
Tennessee & Federal Taxation
Wills versus Trusts
Hire an Experienced Memphis Lawyer
At The Burdette Law Firm we are competent, and caring lawyers when dealing with elder law, and will provide excellent legal advice. We give our clients a great deal of information so they can have the proper understanding to make important decisions. Planning for old age is an emotional process, and we always strive to ease the stress during this difficult situation.
Contact one of our lawyers for more information
After reviewing the above if you have questions and need our assistance in a elder law matter, please call us at (901) 756-7878 or use the contact form on our contact page.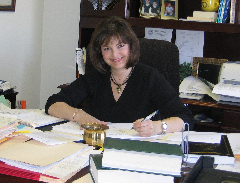 Christina Burdette