Reviews of The Burdette Law Firm
by some of our clients

We retained Ms. Christina Burdette to help us resolve a contentious family estate legal matter. She has been nothing but professional and helpful in dealing with this very difficult situation. We found her very discerning and focused. Not only is it very refreshing to have an attorney actually listen to you and show compassion and understanding, but also to be very firm in their resolve to get matters settled. She explained our situation very thoroughly, not in legal jargon but in language we could understand, and has followed through with a clear plan to expedite this matter quickly. We are very pleased with Ms. Burdette and would not hesitate to call upon her again if the need should arise. Needless to say, we highly recommend her.
- Gary



Ms. Burdette is true professional who represented me in Divorce and Child Custody matters. Provided excellent guidance and timely information resulting in the best possible outcome. I highly recommend Christina and wholeheartedly believe she will provide all of her clients with the same attention to detail and first rate results.
- Duane



Finally, a lawyer who really keeps you in the loop. We have used Ms. Burdette for several matters over the past 15 years and we keep going back to her because she will communicate what is needed with us when it is needed. She does not try to rack up extra charges by calling us daily when it is not truly necessary. But we always know she is working for us and she communicates timely and uses our money wisely in doing so. We appreciate that insight! She is also excellent at breaking down complicated issues into easy to understand terms. If you want a truly down to earth, highly knowledeable attorney, hire Ms Burdette.
- Anne

Mrs. Burdette was my attorney during my divorce. It was a bad time in my life, but she was very helpful. As a Certified Public Accountant she also guided me through all the alimony, child support and tax decisions I needed to make as well. I cannot say - thank you - enough.
- Michael Klues

I have not actually met Mrs. Burdette, but I did just hang up with her assistant / secretary. I can tell you this: "I have been on the phone all morning looking for an attorney that does Concervetorship, and I have spoken with over a dozen law firms / lawyer offices. Once I had spoken to Mrs. Burdette's assistant / secretary, I was so pleased that I called them. I received all the info I was looking for. She made me feel wonderful about my issue and confident that I was calling a person who cared, and she seemed genuinely concerned and eager to help and connect me with Mrs. Burnett. I have an appointment and am looking forward to meeting her... Thanks!
- Yusuf Sneed






From Facebook: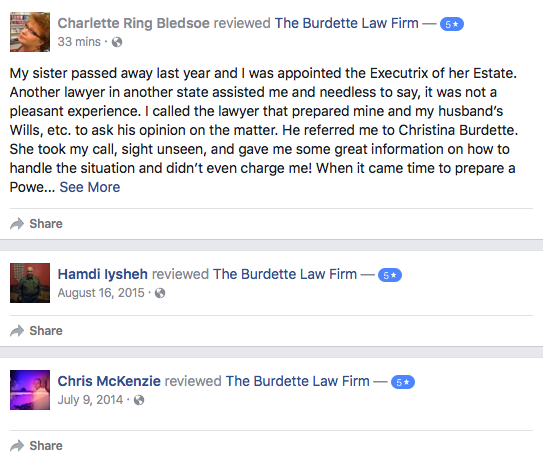 From Google:



From Square, Inc.: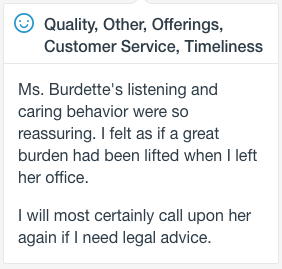 A note we received recently: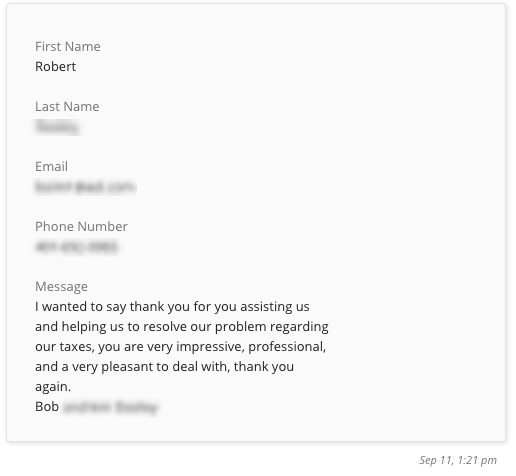 Further reading if you are in Memphis and contemplating legal matter.
Tennessee Divorce Information
Tennessee Divorce Mediation Process
Tennessee Child Support Law
Tennessee Child Adoption Law
Tennessee Business Law
Tennessee Tax Law
Tennessee Estate Law
Hire an Experienced Memphis Attorney
At The Burdette Law Firm we are competent, experienced and caring lawyers and parents ourselves, as well as being versed in business, tax and estate matters. When dealing with family law and other matters, we will provide excellent legal advice. We give our clients a great deal of information on the law so they can have the proper understanding to make important legal decisions. Family law in particular is an emotional process, and we always strive to ease the stress during this difficult situation.
Contact our attorneys for more information
After reviewing the above if you have questions and need our assistance in a legal matter, please call us at (901) 756-7878 or use the contact form to the right.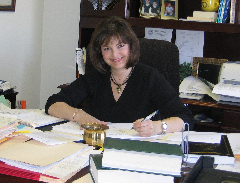 Christina Burdette